Components
One ceramic tile board and 16 hand crafted wooden cubes delivered in a solid card box.
Box size is 7 x 14 x 3 cm (2.7 x 5.5 x 1.2 in) and weight is 230 grams.
Ceramic board size is 6 x 13 x 1 cm.
Wooden cube size is 1.8 x 1.8 x 1.8 cm each.


Rule
yNumber of Playersz: Two
yPlay timez: 5 ~ 20 minutes
yBoardz: 1 x 5 squares board
ypieces and starting positionz:
Each player has their own 8 color cubes. There are symbols printed on three faces of the cubes. The other three faces are blank. There no cubes on the board at start of the game.
yplayz:
Players take turns and make one move at a time. Each player alternately places one cube on any square or on a cube already placed. Each cube must be played with a symbol face-up. Cubes can be placed up to 3 stories (storeys) high except that a player can place a cube at 4 stories (storeys) high on the final winning play.



Play is very simple but strategic. There are 36 placement variations on the first turn. ( 3 squares x 3 symbols x 4 angles = 36) Thus, there are 1,872 placement variations in the first round with two players.

ywinningz: There are three ways to win the game.
Method One
To make 4 in-a-row with the players own color: horizontal, vertical or diagonal.



When we look at from left, right and upper angle, we count the cubes them without regard to their horizontal or vertical level.

Method Two
To make 4 in-a-row with the same symbol regardless of the pieces' color: either horizontal, vertical or diagonal. Four Symbols in-a-row disregards which player's pieces make up the 4 pieces.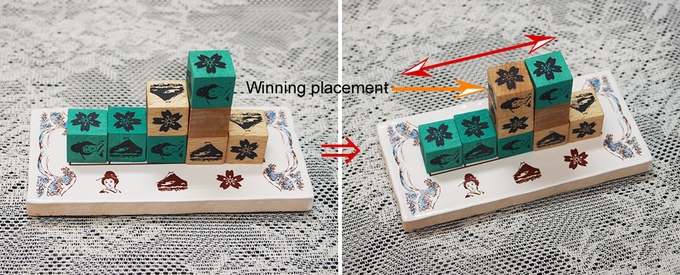 Method Three
To make two sets of 3 in-a-row with the same symbol regardless of which player's cube or color make up the set: either horizontal, vertical or diagonal.



I did mistake. Left photo shows green player won to make 4-in-a-raw with own color cubes from upper angle. I noticed it from backer's message. Thanks a lot and I am very sorry. LOGY GAMES creator Mitsuo Yamamoto. 27/Jan/2016

Additional Details:
œ A player can only create a 3 in-a-row set if it contains a majority of their own color cubes (2 or 3).



Natural color created one 3 in-a-row horizontal with two of his own cubes. He canft win immediately but it is his advantage. He can win the game at his next turn by making an additional 3 in-a-row. In the example above: Set 1 is the 3 Fuji-sans in the horizontal view, Set 2 is the 3 Sakura in the overhead (upper angle) view.

œ We recognize 3 or 4 in-a-row from 5 angles which are; front side, back side, left side, right side and upper side.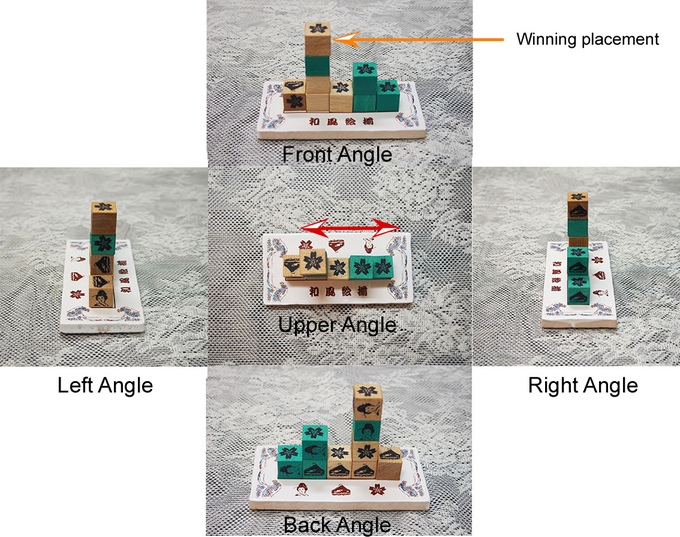 You must always evaluate sets from five angles. This photo shows the natural color winning.

œ This game is a mixture of simple yet strategic rules. Every game may suddenly be won due to a small careless mistake.



This is a very typical careless mistake. If the second player places their cube with the same orientation as the first player, the first player can easily create two sets of 3 in-a-row.

Play is easy but even the game geek players can enjoy strategic games.